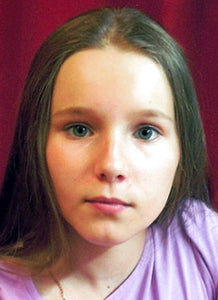 Please Help 11 Year Old Marina. She needs surgery to remove a tumor and to correct her hearing loss.
My daughter was born without an auditory canal and a deformed outer ear. In 2013, we were sent to St. Petersburg for surgery to restore her hearing. There doctors found that Marina had a large tumor – a cholesteatoma, which had already managed to damage the inner ear and destroy her auditory bones. The tumor was removed, but, as it turned out, not completely. It began to increase again, which can lead to serious infections of the brain, even meningitis. Doctors were not able to restore her ear canal. We then turned to a hospital abroad, where doctors, in a single operation, will be able to restore the ear canal and ear drum, remove the tumor, and create a new ear out of advanced synthetic material called a Medpor implant. In other hospitals, it takes at least five operations for this to work. Marina will be able to hear! This is what we want most, but our dream can only be realized with your help!
Irina Ankudinova, Vologda region.
California Ear Institute Otolaryngologist Joseph Roberson, MD (Palo Alto , California, USA): "We will eliminate the auditory canal atresia and congenital hypoplasia pinna with one surgery. We will completely remove the cholesteatoma and also restore the physiology of the ear, the girl will be able to hear and develop like all healthy children her age."
To save eleven-year-old Marina $6,750 is needed. The cost of Marina's treatment is $81,000. We are happy to report that Rusfond has raised the entire amount needed. Marina is expected at the hospital in March. However, an additional $6,750 is required for her and her mother's accommodations, food, local transportation, and other associated expenses for the duration of their stay in the USA.  If you want to help Marina please don't let the cost stop you. Your donation in any amount will be gratefully accepted. You can contribute to Russian American Children's Foundation using a Credit Card, PayPal, or by sending a check made payable to:
Russian American Children's Foundation  
420 Lexington Avenue, Suite 300  
New York, NY 10170
Thank you! All donations in excess of what is needed for Marina will help other children in need of ear surgery.
On 02/06/2016 Marina's mother, Irina Ankudinova wrote to us the following:
"Our sincere appreciation and profound gratitude for helping to fund Marina's operation. For us it is a huge amount, we would never have been able to raise it on our own. When we learned that doctors from the United States can help our daughter, we appealed to many charities, but received one rejection after another… But one fine day, when we got a call from Rusfond, we began to believe in a miracle, and that, for Marina, everything will be all right. Already on March 9th our daughter will have her operation. Together with "Channel One" television viewers, you offered us not only help. We now have become much stronger and have come to believe that there are no hopeless situations, that there are many more good people in the world than it seems at first glance. Many thanks to everyone for your kindness, your contribution and for caring about what happens to Marina, thank you for holding out a helping hand in our time of need. We bow to all of you, wish you good health and all the best. We sincerely believe that kindness and generosity will return to you a hundredfold. We are grateful we have you! God bless you! With respect and great appreciation, the Ankudinova family."
03/09/2016
All the funds necessary for Marina's care have been raised. Marina was successfully operated at the California Ear Institute in Palo Alto, California.