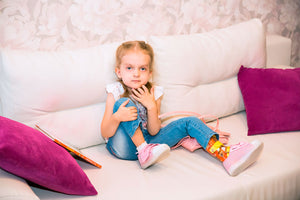 LIZA'S DREAM IS TO DANCE... RUSSIAN DOCTORS WANT TO GIVE HER A PROSTHESIS!
BUT WITH JUST A LITTLE HELP FROM YOU -
AN AMERICAN SURGEON CAN SAVE LIZA'S LEG
Four-year-old Liza lives in Russia. Her mother describes the horror of Liza's leg fracturing for no apparent reason. "The first fracture happened, on completely level ground... My daughter jerked her legs sharply and screamed terribly."

A medical exam reveals that Liza has neurofibromatosis… A rare bone disease where tumors create false joints, cause fractures, and the fractured bones don't grow together.

Russian doctors all say the same thing... the prognosis isn't good... surgery is almost useless because there's a high risk the false joint will form again. They recommend amputating and giving Liza a prosthetic leg.

LIZA NEEDS YOUR HELP TODAY...

She loves to dance. She dresses up in a beautiful dress and imagines herself as Cinderella, who is dancing with the prince at the ball… But for now she's only dancing in her father's arms.

Today, you can help create a miracle for Liza, a child who has no one to turn to, but you.

Dr. Dror Paley, an eminent American orthopedic surgeon, has agreed to operate on Liza. He believes that after surgery and physical therapy Liza will not only be able to walk, but also to dance!

YOUR DONATION TO HELP LIZA WILL GIVE HER...

✔ The best doctors and nursing staff at the Paley Institute at St. Mary's Medical Center in West Palm Beach, Florida.

✔ The complete surgery and physical therapy necessary to treat her rare condition.

✔ All her medications, lab tests, medical exams, and other expenses paid for.

JUST LOOK AT ALL YOU ARE DOING FOR LIZA...

A child with rare disease. A child who had no hope. A child who faced a life of disability. Look at the care she is getting and, most importantly... She is being cured of her condition so she can go on to a live a full, complete life.

Thanks to your donation, her trip to America will not only be an experience she and her family will never forget... But your kindness is something they will carry in their hearts for the rest of their lives."

And you get to walk away knowing that you helped change Liza's life forever.