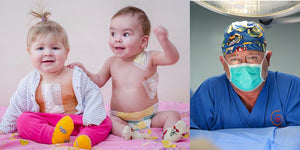 Russian Children - American Medical Care
Russian children with rare, often deadly diseases, don't make headlines in the news. 
These children have been abandoned by their government, by their health care system and by other charities. 
They are dying at unprecedented rates.
They desperately need your help today.
There is no solution in Russia.

Doctors know little about it. Russian hospitals don't have the advanced technology required to help these children. Medical authorities refuse to acknowledge they're incapable of treating them.
A mother asked the chief medical officer at a hospital in Russia what can be done about her son's rare heart condition? The chief replied, "try again for a healthy child."

HELP INTERNATIONALLY RENOWNED DOCTORS SAVE RUSSIAN CHILDREN
Dr. David Abramson is an eye cancer specialist.
He is Chief of the Ophthalmic Oncology Service at...
Memorial Sloan Kettering Cancer Center, the only service of its kind…
Able to offer coordinated, state-of-the-art care with access to...
Novel therapies and clinical trials not available anywhere else in the United States. 
With records that go back to 1914, Dr. Abramson's center is the longest continually operating center of its kind in the world with...
The longest follow-up of the largest number of patients. Including nine RACF children all of whom are now in remission and living normal lives.
Dr. Novick is a renowned American pediatric cardiac surgeon. Since 1993, Dr. Novick and his nonprofit medical teams have performed over 8,500 pediatric heart surgeries.
Working in more than 32 countries worldwide including Iran, Iraq, Lebanon, Libya, Macedonia, Morocco, Pakistan, and Russia.
Microtia atresia is a rare birth defect, which causes a child to be born with a small, malformed, or missing ear.
Only one out of 5,000 babies is born with this condition. RACF works with the California Ear Institute to help Russian children born without ears.
Two American doctors, Dr. Joseph Roberson and Dr. John Reinisch, have developed a solution for these children.
Dr. Roberson is a pre-eminent surgeon who treats hearing impairment in children. He serves as faculty member and is the former Chief of Otology-Neurotology-Skull Base surgery at Stanford University.
Dr. Reinisch is a board-certified plastic surgeon and graduate of Harvard Medical School. He's treated more than 20,000 children with ear deformities from across the country and around the world.
They are able to create an inner ear canal and an outer ear where none exist.
TOP RATED CHILDREN'S HOSPITALS…
Across America partner with RACF to help Russian children. 
Boston Children's Hospital is rated Number 1 by US News and World Report.
Despite treating the most serious congenital heart conditions... 
Boston's Heart Center has some of the best success rates in the world. Their surgical survival rates approach 99 percent. Patients supported by RACF at Boston Children's Hospital have had a 100 percent survival rate!
Donate American medical care to a child suffering from rare disease.