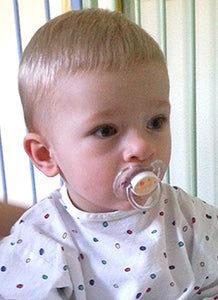 One Year Old Savva has a complex heart defect called Hypoplastic Left Heart Syndrome. He needs open-heart surgery.
"We have two children. Our older son is two years old, he is healthy. But our younger one, Savva was born with severe congenital heart disease - hypoplastic left heart syndrome. He was diagnosed when I was still pregnant. In Russia, we were turned down for medical treatment. They said that with such a diagnosis he will not live long. We started to look for clinics abroad. Thanks to the donations of many kind people, Savva had his first two surgeries in Germany. They were difficult for him. Now he needs one final operation on his heart. We turned to The Children's Hospital of Philadelphia (USA), where they successfully treat children with this diagnosis. But we are not in a position to pay the invoice from the American hospital. My husband is a priest, I care for our children. Please, help." 
Anna Martynenko,
Voronezh Region.
Without this final surgery, Savva will get worse and may not live into adulthood. If you would like to help Savva, don't let the cost stop you. We are almost there. Please give what you can. Your gift in any amount will be gratefully accepted. A young boy needs you. He and his family have nowhere to turn. With your help we can save Savva's life.
The cost of Savva's surgery is $157,211. We are happy to report that the Rusfond children's charity in Moscow has raised the entire amount needed. Savva is expected at the hospital in early January 2015. However, an additional $6,570 is required for his and his father and mother's accommodations, food, local transportation, and other associated expenses for the duration of their stay in the USA.
If you want to help Savva please don't let the cost stop you. You can contribute to Russian American Children's Foundation using a Credit Card, PayPal, or by sending a check made payable to:
Russian American Children's Foundation 
420 Lexington Avenue, Suite 300 
New York, NY 10170 

Thank you! All donations in excess of what is needed for Savva will help other children in need of open-heart surgery. 
01/09/2015
All the funds necessary for Savva's care have been raised. 
Savva was successfully operated at the Children's Hospital of Philadelphia.