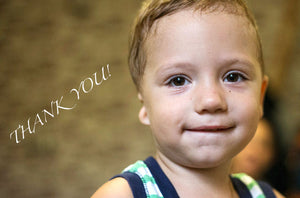 Can My $10 Gift Really Help?
We've all heard the cliché that "every dollar makes a difference." And it does. Every dollar is a priceless gift that shows a child in need that you care about them. 

Families will be grateful to you for your help. Every dollar makes them feel that…
They are not alone. Because now they know you care. Your gift creates a snowball effect and something magical happens as it takes on speed.

EVERY DOLLAR...
Creates a miracle for a child in need. One of your dollars may even be the last dollar needed to give a child life-saving American medical care.
A boy with a life-threatening heart defect, a girl without an ear, a child facing blindness from eye cancer – they all have a chance to live a normal life if they can get groundbreaking American medical care in time.
When a mother and father in suddenly discover that their child suffers from a very rare, life-threatening condition, their only hope is to bring their child to America for advanced medical care.
HELP CREATE A MIRACLE
These children need complex surgery, state-of-the-art diagnostic testing, financial assistance with travel and hospital stays. The challenges they face are daunting.
RACF is there for them every step of the way from finding leading specialists, negotiating hospital fees, helping to obtain U.S. visas to arranging flights, housing, interpreters, and other logistics within the U.S. 
Children suffering from rare diseases often have to endure long days, weeks, even months of medical treatment before they can fully recover. Yet each step forward brings them closer and closer to the miracle for which they are praying.
You can help be the answer to their prayers. They have nowhere else to turn. 
Help create a miracle for a child today.